<![if !vml]>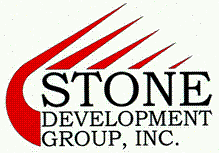 <![endif]>
For Immediate Release

                                                                                                                                     

C
ontact:
John Lanctot
                                                                                                                                                                                 Maximum Marketing
                                                                                                                                                                                       (312) 768-7376
SDG to Provide Cleaning
Services with New Company
Commercial Contract Cleaning Offers Full-Service Cleaning Services
HUDSON, Wisconsin, September 9, 2008 – It is always a mess when a construction project is finished.   However, Stone Development Group has decided to take cleaning matters into its own hands as they have opened a full-service cleaning company, Commercial Contract Cleaning.   
"One of the questions we get asked the most from our customers is who is going to clean up after a project is completed," said Jaron Stone, president of Stone Development Group.  "We decided to start Commercial Contract Cleaning because we wanted to offer our customers a one-stop place where they could get a job completed, from start to finish, including clean-up.   When a building is finally finished and ready to open, Commercial Contract Cleaning, Inc. can not only do the post-construction clean-up but it can also serve as a long-term cleaning company to offices, restaurants, or retail shops."
Whether a company is looking to be serviced weekly or monthly, Commercial Contract Cleaning Inc. can fit the needs of each individual company that it services.  Commercial Contract Cleaning, Inc. provides services from carpet care, hard floor care, trash, restrooms, vacuuming and porter services, to general office cleaning, common area cleaning and dusting.
About Stone Development Group
Stone Development Group (SDG) is a full service developer and general contractor with headquarters in the Minneapolis/St. Paul area along with a branch office in Chicago.  SDG's multitude of specialties includes construction management, land development, design and build services, land surveying, civil engineering services, architect services as well as providing a complete-range of carpentry support services.  For more information, call 715-381-8446 or visit www.stonedevelopmentgroup.com.
# # #